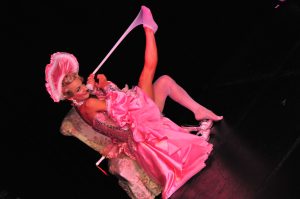 Burlesque The Art of Seduction
Enjoy a fantastic, fun and feminine burlesque workout with professionally trained dancer and award winning performer Flavella L'Amour. You will be guided on a journey through slow sensual tease to fast paced shimmy shaking, learning classic and contemporary burlesque moves, Vintage burlesque choreography as well as the art of seduction through characterization as well as peeling and revealing.
Available Session Times –
15604 – Mon 7.45pm 17 May 3wks x 2 hrs (Wea Centre)
Fees available for this course:(Which Fee?)
Standard: A$71.00
Discount: A$64.00
Concession: A$63.00
WEA you can call our enrolment Hotline on 8223 1979 or freecall 1800 638 749 (SA country residents only),
Or, you may wish to call into our office at 223 Angas Street, Adelaide during our office hours of Monday to Friday, 9am to 5pm.